Hello friends - hope you are all doing well!
Here it is the last Wednesday of April already.
It's also my amazing friend Cindi's birthday...
HAPPY BIRTHDAY girlfriend!


And... it's time for another WONDERFUL WEDNESDAY
challenge at
KRAFTIN' KIMMIE
!!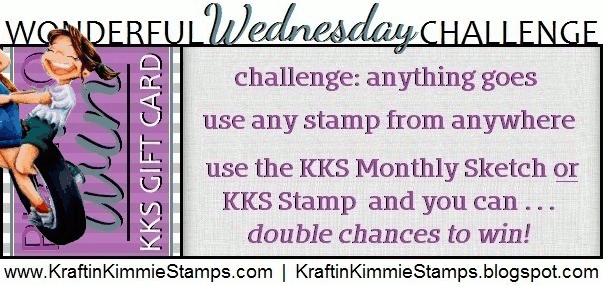 It's always "Anything Goes" on Wednesdays at KK.
Not too much to think about in terms of
a special theme, or type of project, or color scheme
or stamp to use - cause you can do anything your
little ol' heart desires (as long as it's in good taste)!
I have another card to show you using one of
Take a look:
Can't you just smell the chocolate cupcakes she is holding?
And seems like some pretty good advice to me...
why stress when you can eat a cupcake (good ol' comfort food)!
I also used another sentiment from this set on the inside
with another piece of good advice (in my opinion)
I definitely like to follow that as often as I can :o)
I'm entering the following challenges:
Thanks so much for stopping by to visit me today!
But before I go...Did you see this great deal ?
Kimmie posted a "secret" extra 10% off code in the FB Friends Group!!
Use code SPRING2015 for 10% off your entire order, good through April 30!

I hope you will be joining us this week for Wonderful Wednesday.
Til next time...hugs and happy kraftin'! D