Hello sweet friends and followers - TGIS!
For those of you who don't know what that means,
it's Thank God it's Saturday!! My favorite day of the week
for lots of reasons... no work (usually), sleeping in, leisurely
coffee and breakfast, some crafty time (if I'm lucky)
and the start of another weekly challenge at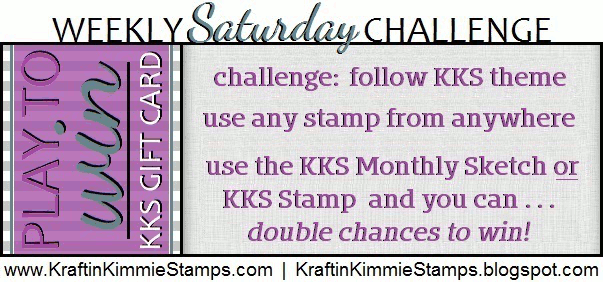 Oh boy do we have a FUN theme for you this week - BIRTHDAY!
I decided to keep it simple (KISS) and not add a bunch of
embellishments this time. It will be much easier to mail this
way. The post office usually loves to see me coming
with my heavy and special handling cards due to the embellishments
and/or layers and thickness - but not this time :o)
Since it's the start of a new month we also have a new monthly sketch.
The sketch will last all month long and if you use it in ANY
of our Challenges during the month, you will get an additional chance
to win a store gift card! You do NOT have to use the sketch,
it's just a little extra boost for your mojo if ya need it!
Here's the fabby August sketch:
I am one of those crafters who LOVES to use sketches as a starting
point for my creations. So I happily used the August sketch for
for my card this time but flipped orientation and changed the
shape from a regular A2 to a square layout.
I'd like to enter this card in the following challenges:
(I went with the square option this time).
I sure hope that you will decide to join us this week! You
could WIN some Krafty $$ to spend in the Kraftin' Kimmie Shop!
But..... only if you enter and share your own gorgeous creation.
Oh and hey... because sometimes I'm a crafty enabler - and love it
when other enable me too with notice of awesome deals on my
favorite crafty products, I wanted to make sure to tell you that
the HUGE summer sale at Kraftin' Kimmie Stamps
has been extended through the weekend! There are hundreds
of awesome stamps in this SALE and many of them are 40 and 50% off.
HURRY though because when they are gone, they are gone.
Kimmie isn't planning on getting restocks on these sale stamps.
Head over to the Krafty store and cross a few things off of your wishlist!
I snatched up a couple myself that I didn't want to miss out on!
Well friends it's time for me to get on with my weekend so
I'll say ta ta for now. Please go visit the other Krafty Girls and
Guests to see their amazing creations too.
Til next time...hugs and happy kraftin'!D